Merry Morning | Gift Box & Blanket Set | Martha's Vineyard Holiday Collection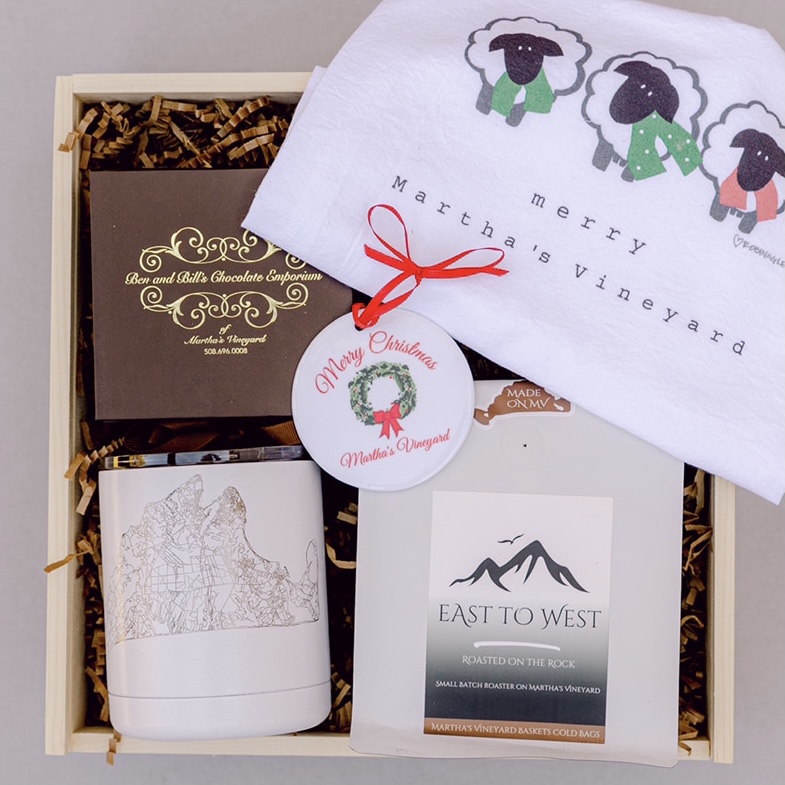 Merry Morning | Gift Box & Blanket Set | Martha's Vineyard Holiday Collection
Make your morning merry when you gift the holidays in style! Our holiday gift box includes an ornament, insulated cup, tea towel, coffee, chocolate truffles and a  cozy throw blanket.
Send someone a thoughtfully designed, unique gift from Martha's Vineyard this holiday season.

Included:

•Gift Box Assorted Truffles - Ben & Bills
•Holiday themed Tea Towel - Cut Paper Island
•Insulated Cup in Matte White with engraved Martha's Vineyard Map - JACE.design
•Martha's Vineyard Baskets Coffee Blend Cold Brew - East to West Coffee
•Merry Christmas from Martha's Vineyard Ornament - philoSophie's Stationery & Gifts
•Knitted Decorative Cozy Blanket, Herringbone Stripes in Rust 50" x 60" - Hofdeco
•Note card by Barbara Reynolds Photography
•Beautifully decorated with satin ribbon, complimentary handwritten note card and a piece of decorative greenery.

This gift comes in a wooden keepsake box that can be used as storage or decoration after your loved one unpacks everything inside

*We source out products from small business makers and local artisans across the country and as a result certain items can become unavailable on rare occasion. We reserve the right to substitute an item of the same type, of equal or greater value, and as close to your original item as possible.